PORTLAND---In the Roman Catholic Diocese of Portland, March 3 served as a diocesan-wide day of prayer in reparation for the hurt caused to the victims/survivors of sexual abuse of minors by clerics and a day to pray for all those who have been harmed by such abuse.
Bishop Robert P. Deeley served as the main celebrant at a Mass for the Day of Prayer and Penance at the Cathedral of the Immaculate Conception in Portland.
"Like the Season of Lent, our coming together for this day of reparation and fasting once a year is a constantly recurring reminder. It gives us the opportunity to reflect on the harm that has been done by the sexual abuse of minors. We do not want to forget.  Remembering keeps us vigilant in our effort to reform," the bishop told those gathered. "The harm that has been done is a misuse, an abuse of the beauty of a human person, one created by God. The harm done, however, is also an abuse of religion. One charged with bringing a young person closer to Jesus instead has harmed a child using that creation of God for his own purposes." 
Priests throughout the diocese observed the Day of Prayer and Penance by offering Masses that included prayers for victims/survivors of abuse for their healing; for perpetrators of abuse to seek and find repentance and justice; for diocesan clergy, employees, and volunteers to serve with a spirit of respect and humility; and for families to create a safe, loving, and peaceful environment for their children.
"We come together to ask forgiveness for the terrible harm that was done to so many young people by the sins of the very persons who were called to serve these children, their priests," said the bishop. "The fact that it was not good but harm that was done to these children of God is the reason we come together seeking healing and forgiveness in this service of penance and remembrance. Remembering gives us the resolve to do all that we can to prevent such abuse to occur. We come together in this prayer of solidarity to pledge to victims/survivors that we hear their suffering, and we will try to walk with them as they seek healing."
The Day of Prayer and Penance
has been held in the Diocese of Portland for over ten years. Last year, Pope Francis' own Commission for the Protection of Minors advised the Holy Father that victims/survivors with whom they spoke said that prayer is an important part of the healing process for both victims/survivors and the wider community.
"Public prayer is an important way of raising consciousness in the Church. Our prayer, then, also reminds us that sexual abuse has happened, and does happen, in the Church and in society," said the bishop. "It is harmful. Thus, it is the hope that our gathering for prayer and for healing will help to keep us vigilant and watchful so that we can aid everyone to know of the harm that sexual abuse causes, to those abused, to their families, to the community, whether that be the Church or any other community."
Since the implementation of the Charter for the Protection of Children and Young People in 2002, the Diocese of Portland has worked diligently to ensure a safe environment for all young people. An independent, on-site audit of safe environment procedures conducted in 2016 found the diocese in full compliance with the Charter which mandates that any representative of the Church who sexually abuses a minor be permanently removed from ministry. It also calls for the reporting of all complaints to civil authorities, thorough investigations of all complaints, and reimbursement of therapy for victims/survivors. Since 2002, over 14,000 Catholic Church employees, volunteers, priests, and educators in Maine who work with children have been trained in a safe environment program, which includes mandatory background checks.
"We as a Church have learned from this tragedy," said the bishop. "We have instituted programs of safety in our schools and parishes. We have tried to help people to be watchful for signs of questionable behavior. We continue, in this diocese, to invite an annual audit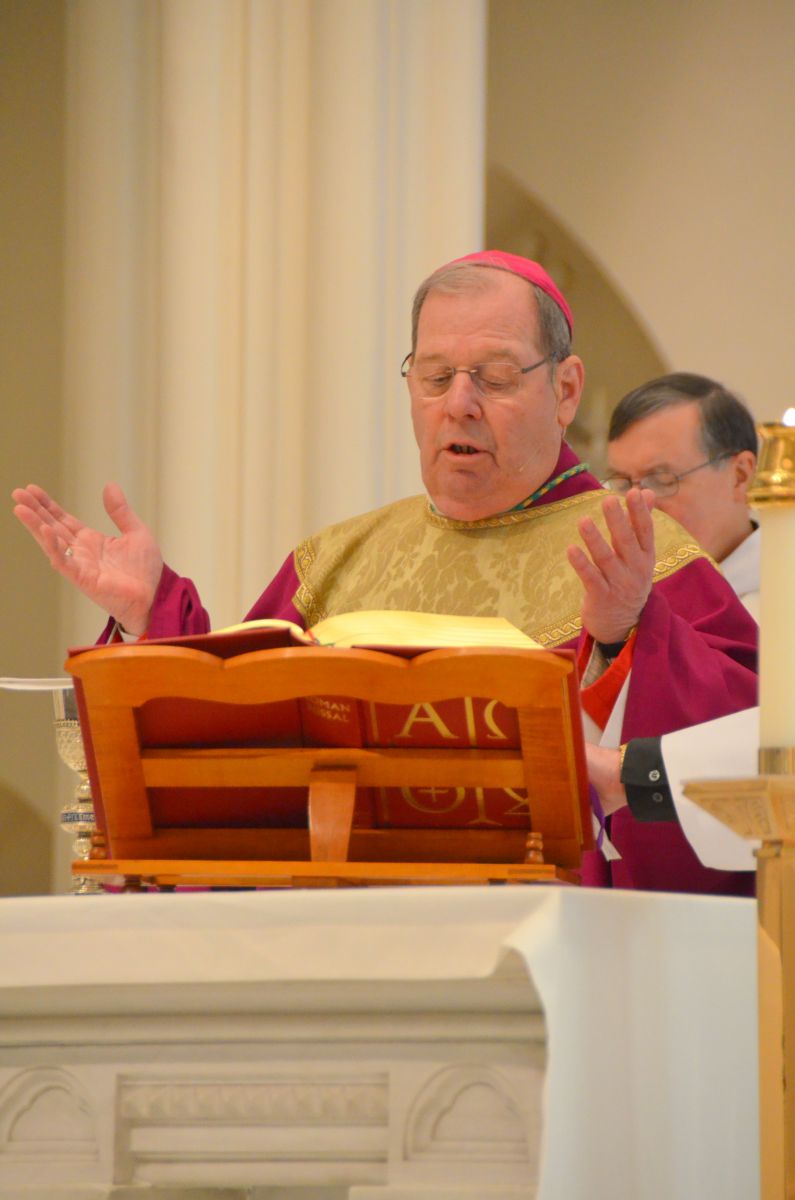 of our systems and processes to be sure we are all doing all we can to keep our parishes, schools, and institutions places where children are safe. This is a major undertaking but one which we do willingly to protect the young."
Bishop Deeley thanked victims/survivors for being in attendance, apologizing on behalf of the Church for the harm that has been done. He also encouraged anybody struggling in silence and carrying pain to come forward.
"It sometimes takes a long time to confront the pain which is caused by abuse. Here, in the Diocese of Portland, we want you to feel free to come forward and speak about these painful experiences. We will work to receive you in a manner that protects your dignity. We want to do what we can to assist, if at all possible, in a process which leads to healing. Out of the same desire to assist in healing, we also encourage any victim of sexual abuse to bring that crime to the attention of those civil authorities who are charged with the administration of justice."
Anyone who may have information about any case of sexual abuse of a minor by a church representative is asked to contact civil authorities and Michael Magalski, Director of the Office of Professional Responsibility for the Diocese of Portland, at (207) 321-7836 or michael.magalski@portlanddiocese.org.
"In our prayer, we ask that our Loving Father, who cares for us as his children, will continue to send his Spirit over us to guide our resolve to do penance and to restore trust through the vigilance we bring to the care and safety of all in our Church," said the bishop.