"Ash Wednesday, as we begin the Season of Lent, is really about reminding ourselves of
that love which gives rise to all love, the love God has for each of us."
---Bishop Deeley
PORTLAND---"With our prayer, fasting, and almsgiving, may Lent be for each of us that acceptable time in which we grow in our love of God and one another," Bishop Robert P. Deeley told the gathering. "It is that love which will truly better our world."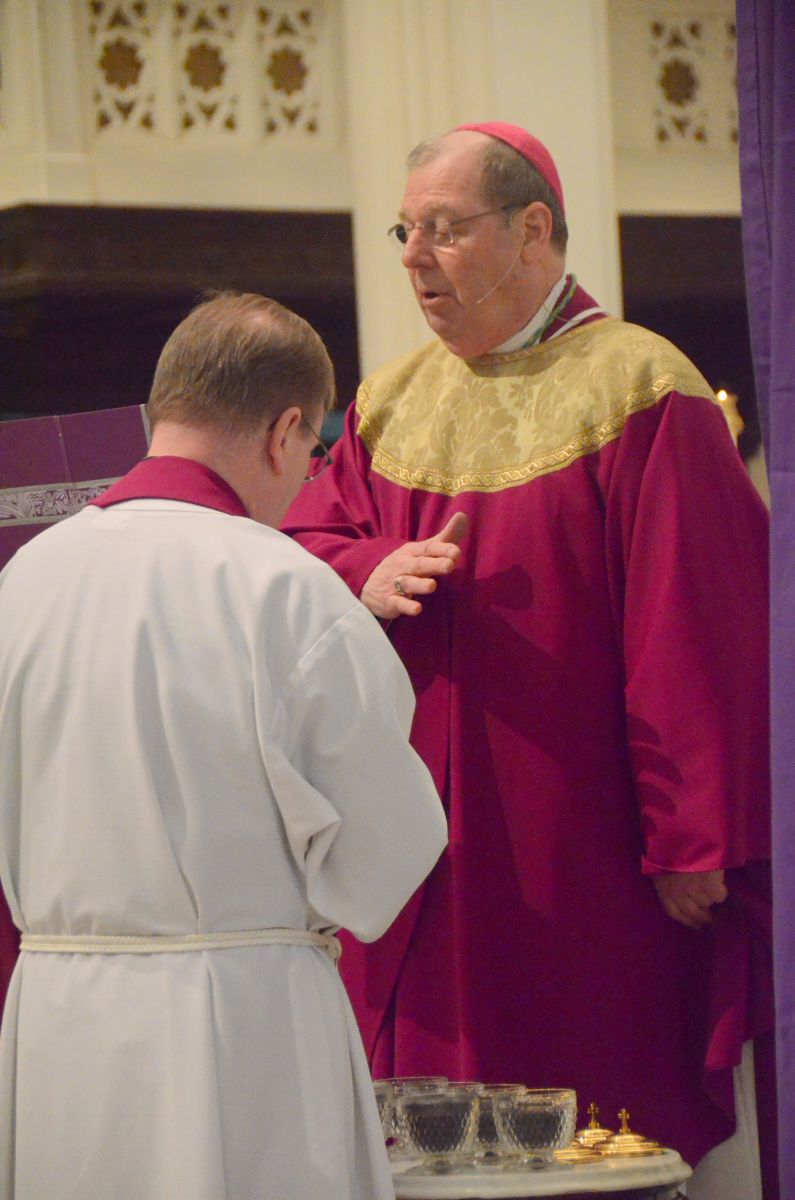 Hundreds filled the Cathedral of the Immaculate Conception in Portland on Wednesday afternoon, February 14, as Bishop Deeley celebrated Ash Wednesday Mass (additional pictures below), marking the start of Lent, a period of prayer and penance leading up to the celebration of Christ's death and resurrection.
During the Mass, the bishop blessed the ashes which are made from burned palms of the previous year's Palm Sunday. The ashes were then placed on people's foreheads in the form of cross, while the words "Remember that you are dust, and to dust you shall return" or "Repent, and believe in the Gospel," were spoken.
"Those words may seem gloomy but, in fact, it is good news," the bishop said during his homily. "It is out of love that God has created us, each of us. The ashes are a reminder of where we come from. Today, they will recall for us of how it is that we got from being dust or ashes to being a vibrant human being. It is God who has created us and cares for us. Ash Wednesday, then, becomes a powerful reminder of who we are, and who has called us into being."
During Lent, Catholics are called to three practices: prayer, fasting, and almsgiving. The practices are intended to help the faithful achieve a conversion of heart by focusing more fully on deepening their relationship with Christ.
"We will understand what God wants of us, and how God wants us to live through prayer. Through fasting, we will become more aware of our dependence on God, and his goodness to us, by foregoing some of those things that are an integral part of our lives. And, finally, we will acknowledge that we do not stand alone in this world. We are called to love one another," said the bishop. "We do that by rooting out of our lives those things that threaten the peace of the community: jealousy and envy, anger and bitterness toward others, selfishness and an inordinate concern with my opinion or my needs, cruelty and false judgment. As we do that, we will also come to know that we are called to care for one another."
One way in which Catholics care for each other during Lent is by participating in Catholic Relief Services' (CRS) Rice Bowl, which benefits the poor around the world. During the Mass, the bishop blessed rice bowls, cardboard containers in which parishioners place dollars and cents. Seventy-five percent of the money collected goes towards Catholic Relief Services' worldwide ministry, while 25% is used within the diocese. CRS says even a dollar a day contributed during Lent can provide a family with food for one month. Parishes and schools in the Diocese of Portland combined to raise over $57,000 for the Rice Bowl program during Lent in 2017.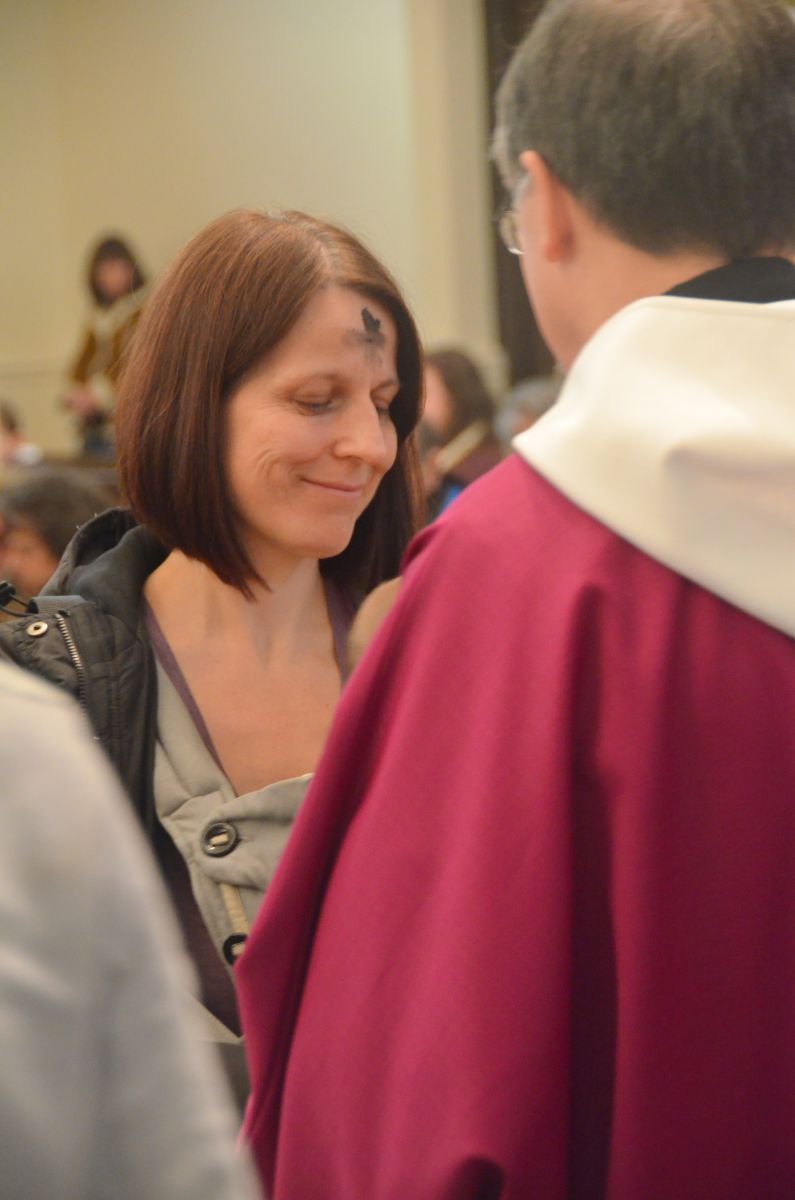 Ash Wednesday is a day of fasting and a day of abstinence from meat. In 2018, Ash Wednesday fell on Valentine's Day and during his homily, the bishop explained that there is a connection between the two beyond a calendar coincidence that should be remembered.
"St. Valentine's name is connected with Christian marriage and the love which is its foundation. Today, chocolates become equivalent to love. Jewelry becomes a symbol of love. That is all fine, even if we can't eat those chocolates on Ash Wednesday, but it is also good to remind us that underlying all the sweet and beautiful things that become important on Valentine's Day is love, and the source of all love is God, whose very name we are told by Jesus, is love. And Ash Wednesday, as we begin the Season of Lent, is really about reminding ourselves of that love which gives rise to all love, the love God has for each of us."
The bishop added that Lent is a call to renew ourselves in that love.
"We remind ourselves that God's love lasts longer than the 'things' so important to today's festivities," said the bishop. "We are reminded that it lasts for eternity."
A special Lent section has been created on the Diocese of Portland's website featuring resources to assist individuals and families during their Lenten journey, including Mass times, special event listings, a Lenten calendar, faith formation and Scripture reflections, retreat information, ways to share their gifts, and Lenten messages from Pope Francis.